The activity of "uncluttering" – defined as "to remove clutter from: make neat and orderly" – is an activity that can be difficult to start yet when it's done, it feels amazing!
I started on a one month challenge on January 1st in which by January 31st, I will have gotten rid of 496 items from my house!
Each day, I am adding one more item to unclutter, so for example, on January 1st, I only needed to unclutter one item.  On January 2nd, two items, and so on with the number of items matching the number of the day of the month.
If you'd like to use this calendar tool that I'm using, I created a PDF FREE download that you can access the link here..
To bring you up to date, just add the items from the previous days to your new start date and you'll be caught up.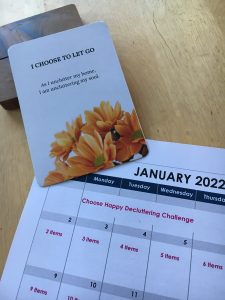 How can dealing with our clutter help us feel happy?
1. Lowers our everyday stress.
Simply put, less stuff = less to clean and put away.  Just that alone is a game changer.
Imagine being able to find your favorite coffee mug within seconds instead of feeling frustrated to find it amongst other mugs that you really don't like (yet you tolerate having in your cupboard).  Now's the time to donate those mugs ????.
2. Supports who we are TODAY.
The dress that still has the tags attached – you were convinced you would wear it  – when you fit the size.  You bought it 5 years ago hoping you would fit into it after going on that diet.  It didn't happen.
How does looking at it in your closet make you feel?
I'm thinking it's probably making you feel bad about yourself … ?
If that's the case, it's time for the dress to go – no matter how much you paid for it – I am giving you permission to end the pain today.
Keeping it is not choosing happy.
Having clothes in our closets that don't fit us can bring negative thoughts about how we feel about our bodies.  And, that's not OK.  We are perfect just the way we are.
If you can get money for it, then do that.  Take the money and put it towards buying something you love (and fits ????).  If you can't, then donate it with love for someone else to enjoy it.
Tip:  Only keep clothes that fit you (or are one size different from what you normally wear (in case you gain or lose weight).
3. You learn how to make intentional choices.
As we're looking at our items, we are most likely asking ourselves the following questions:
Why do I own this?
How is this adding value to my life?
Why should I keep this?
Asking these type of questions gets us feeling empowered to live our life.  We are in charge of these items, not the other way around.
BONUS:
And, what about items you're just not ready to part with?
It's OK to not be ready to part with some items.
Maybe next year, it might feel differently for you.
I too have items that, at this point in time, I'm not ready to part with and that's OK.
It's when there are too many items that have become clutter that you don't deal with, that's when it can become a problem.
Join me in the Choose Happy January Decluttering Challenge by downloading the FREE PDF to keep you motivated.
I don't know about you, but I LOVE check marking the task "done" every day ????.
Cheers,
Marie